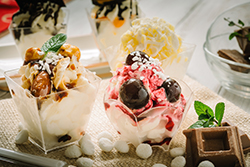 Sweet Summer Treats on Martha's Vineyard
When summer sizzles, you'll want to stop in for some cool treats. Make your stay extra SWEET at these popular places:
Mad Martha's Edgartown & Vineyard Haven
Since 1971, this popular ice cream parlor has been serving up smooth and creamy, homemade ice cream and frozen yogurt. You can expect generous portions, and two scoops is only 50 cents extra (hint hint). There are so many exciting flavors to choose from: blueberry, Snickers, maple walnut, wild berries and more. When you go, there may be long lines in the summer, but it's worth it.
Ben & Bill's Chocolate Emporium
Oak Bluffs
Not to be confused with Ben & Jerry, this sweet spot offers many imaginative, delectable treats. Are you bold enough to try lobster ice cream? If not, there are always flavors like Kahlua, Grand Marnier and more. The portions are huge, so try some samples before you make your choice.
Vineyard Scoops
Edgartown
Enjoy a wide variety of flavors including banana berry, peppermint, cappuccino, s'mores, classic chocolate chip, strawberry and more. Here you can order soft-serve ice cream, frozen yogurt, sorbet or sherbet. Try their heavenly sundaes and smoothies, too. Or step back in time and have an old-fashioned root beer float. There are many tables available if you'd like to relax and stay a while. Note: They only accept cash.
Big Dipper
Oak Bluffs
Check out this ice cream parlor and café across from the Flying Horses Carousel. Enjoy homemade frozen ice cream. The pink banner out front is inviting for kids of all ages (Mom and Dad, you know who you are). Also stop in for breakfast and lunch.
Murdick's Fudge
Edgartown
This candy store has been tempting tastebuds with the same recipes since 1887. They offer a dozen flavors, including Cape Cod Cranberry. Sample their homemade fudge, peanut brittle, chocolate bark and chocolate nut clusters. You can even watch as fudge makers create 15 different flavors of fudge and candies. Murdick's also specializes in wedding fudge and gift packages. It's also a café.
Chilmark Chocolates
Chilmark
If you've got a sweet tooth, you'll want to stop by this chocolate haven. This cute shop features a wide variety of handmade, hand-dipped chocolates. Stop in and try their legendary dark chocolate. Take some home with you!
Not Your Mama's Chocolate Factory
Vineyard Haven
This unique sweet spot uses only natural sweeteners, with no refined sugars, to promote good health. You can feel good about trying their coconut crunch chocolate bar, or the ginger pomegranate chocolate bar. Everything is handmade, organic, and they use local ingredients when possible. Try their smoothies, too.
Good Ship Lollipop
Oak Bluffs
Opened in 2006, this confectionary store makes old-fashioned candies and offers a HUGE selection of candy you know and love. Named for the Shirley Temple song, this shop offers Oreos dipped in chocolate, toffee squares, 2-for-1 deals on candy, plus toys and souvenirs. Relive your childhood in a place that celebrates everything sweet!
Explore all of this and more on your next visit to Martha's Vineyard. When you go, A-A Island Auto Rental is the only name to know for the easiest way to get around the island. We offer two convenient locations and a wide selection of transportation options.
A-A Island Auto Rental. Contact us today!