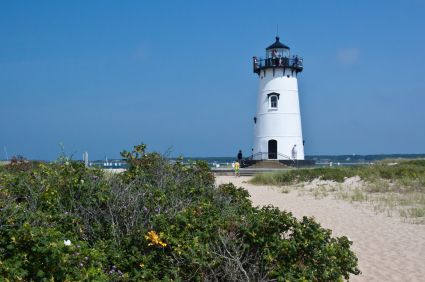 How well do YOU know Martha's Vineyard? History of the island—part 2
After a time of peace and prosperity between the shite settlers and Wampanoag Indians, things changed during the American Revolution.
The island declared itself to be neutral. But many were loyal to the Patriot cause and fought to protect their businesses.
The British came. . .and it was a disaster.
In 1778, British soldiers set fire to a fleet of ships in the harbor and stole cattle and sheep, which severely hurt the island's economy for many years to come.
The whaling industry eventually got back on its feet around the 1820s when ships were active in the harbor and the beautiful houses in Edgartown were built. This was considered the Golden Age of Whaling.
Whaling wouldn't last forever, though. When the Civil War came, the Confederate Army captured ships on the high seas, and the whaling industry as it was would never be the same again.
How tourists came to Martha's Vineyard
In 1835, a group of Methodists met to pray on the high bluffs overlooking the ocean. They found peacefulness in this serene landscape. Tents were made for others who came to worship here. Word quickly got out about the natural beauty and inspiration of their surroundings.
So it could be said that the tourism industry was actually born in the mid-1830s on Martha's Vineyard. People from all over came to visit and eventually some would purchase property. Notable figures flocked to the island for the inspirational surroundings—and many bought homes so they could stay here.
Even though Martha's Vineyard is known primarily as a "summer colony," there are many who have full-time residences here, too.
Famous names on The Vineyard
Presidents have vacationed on the island, including Bill Clinton who, with his wife Hillary and daughter Chelsea, have spent vacation time here. But he wasn't the only U.S. president to visit. As far back as Ulysses S. Grant, who visited a friend on the island, political figures have been coming here. Jacqueline Kennedy Onassis had a home here until her death in 1994. President Barack Obama visited in 2009 and is planning another visit soon.
Also, many celebrities have chosen to own seasonal or year-round homes on The Vineyard. High-profile names like Diane Sawyer, Carly Simon, Meg Ryan, Michael J. Fox, Mike Wallace and Walter Cronkite have all lived or are still living on the island. Jeffrey Kramer, who produced Ally McBeal and The Practice, is another longtime Martha's Vineyard vacationer. Larry David, writer and producer of Seinfeld, is a regular, too. Pulitzer prize-winning writers Geraldine Brooks and Tony Horwitz have owned property here as well.
In fact, many notable artists and writers have also chosen Martha's Vineyard as a getaway destination not only because of the breathtaking scenery, but also because it provides a sanctuary from the hectic world, much as it did for those escaping the violence of slavery and in the New World so long ago.
Today, Martha's Vineyard remains a haven to all who come to visit.
If you'd like to explore this piece of paradise, explore with us at A-A Island Auto Rental. We'll provide you with comfortable transportation around this majestic island. Contact us today!