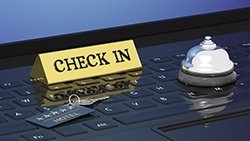 Lodging in 4 different places No matter where you stay on Martha's Vineyard, there are many beautiful, inviting lodging options. Here we're providing a sampling of four favorites to consider when you plan your next Martha's Vineyard vacation.
Totem Pole Inn
If you'll be staying in Aquinnah, the Totem Pole Inn is a great choice. The Inn offers charming New England-style cottages and sits on six acres of picturesque scenery. You'll be located in a tranquil spot, also convenient to some of the island's most breathtaking natural attractions. If you'd like to see the famous Aquinnah Cliffs, which used to be called the Gay Head Cliffs, it's less than 10 minutes away from the Inn. You'll also be very close to some of the best beaches, shopping, dining and art galleries. Did we mention the incredible sunsets?
The cottages have kitchens and fireplaces, and you can choose one with one, two or four bedrooms. The Totem Pole Inn is known as a great place for group gatherings, including family reunions and business retreats. It's a perfect getaway!
The Dockside Inn
This contemporary hotel is located along the famous Oak Bluffs harbor, amidst Victorian architecture and oceanfront views. The décor is nautical and modern, with 21 rooms that cater to couples, families and wedding parties. Some rooms offer dramatic harbor views, and the location is near the historical Gingerbread Cottages, The Flying Carousel, and many other attractions of Oak Bluffs.
In the summer, enjoy complimentary ice cream or fresh baked cookies in the afternoon. If you like the modern conveniences of an upscale hotel room with close proximity to many attractions, The Dockside Inn has your room ready.
The Thorncroft Inn
This historic bed and breakfast, which began construction in 1908, is located in Vineyard Haven. The Thorncroft Inn offers plenty of charm and character, with all the modern amenities. The room décor is Victorian, and you can choose from a room with a fireplace to an indoor hot tub to an antique queen-size bed. All the rooms have full private baths and complimentary high-speed internet access.
Its inviting rooms make this Inn a perfect place for a romantic getaway. You'll feel like royalty staying in the well-appointed, decorative rooms.
Known for outstanding dining, The Thorncroft Inn offers a full country breakfast, or you can even have breakfast in bed. Even though there's so much to see in surrounding Vineyard Haven, this Inn spoils you with so many luxuries, you may not want to leave!
Winnetu Oceanside Resort
Situated along the popular South Beach in Edgartown, this resort boasts an array of amenities, including two outdoor heated swimming pools, tennis courts, fitness facilities, yoga classes and a kids' program. The resort is a seven-minute walk from South Beach and nine miles from Farm Neck Golf Club. There's a choice of upscale accommodations, from 1-4-bedroom suites, private cottages, even vacation home rentals. All include kitchens or kitchenettes, cable TV, DVD players and free WiFi access. Some accommodations feature private decks and patios, as well as wet bars. When you stay here, you may enjoy sweeping views of the ocean and dine at the renowned Lure, the resort's waterfront restaurant.
Please continue to visit our blog for more "where to stay" spotlights. And be sure to check with the hotel or inn's website for reservations and seasonal information. If you want to reserve your preferred accommodation, be sure to reserve early for the season in which you'll be arriving. Hotels and inns fill quickly during the summer months, and sometimes off-season rates can be a great alternative.
Before you go, contact us at A-A Island Auto Rental. Let us make your stay on Martha's Vineyard even better with convenient, affordable transportation.