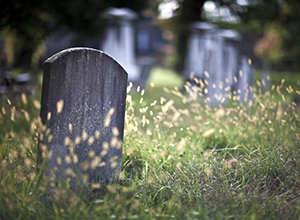 A Ghostly History of Martha's Vineyard: Whether you're a believer in ghosts or a skeptic, you might sleep with one eye open after taking a Vineyard Ghost Walking Tour. In honor of Halloween, we'll take a look at some of the haunting tales that are told on Martha's Vineyard.
Stories. . .or History?
When you have houses dating back to 1664, it's safe to say there's a lot of rich history on the island. And when you have that much history, it can be a hot spot for ghost stories. For instance, with so many buildings on the island dating way, way back, there are actual true stories of the original or long-ago inhabitants of these buildings. Ghost sightings and other weird things have been experienced by some people at these places, but not others. So whether or not they are true remains a mystery.
If you like a good ghost story, here's a sampling of some we've uncovered:
Ghosts in Your Camera
Some visitors to the island have taken photos and on them have seen little white lights, or orbs, which represent other-worldly energy that a camera can pick up on film. The reason for this is said to be a "negative vortex," or energy of several spirits grouped together. There are some places where this occurs more often than others. Let's just say it probably wasn't a good idea to have built so many homes on a Wampanoag burial site. Some locals say this agitates the souls that want to rest in peace.
The Kelley House
This hotel in Edgartown has a long history of mysterious sightings and strange things going on. It originally opened in 1732 as a small brick watering hole where sailors could get a drink. A big hotel was built alongside it, and some say the guests who stay there aren't all. . .living. From a dead sailor taking a shower every day in a maid's quarters to guests hearing what sounds like furniture being rearranged, this place was long overdue for a paranormal team to come and explore it. And explore it they did. A special research team specializing in paranormal activity came in and took readings on machines designed for this purpose. The verdict was that there were some ghosts still lingering on the premises, not all of them bad, some friendly who were just hanging out. Some ghosts are believed to have some unfinished business to take care of. Others are simply spooky and no one knows what they want. Whether you believe or not, there are hotel staff members who will tell you all kinds of stories about the haunted adjoining rooms, 305 and 307.
The Daggett House Inn
This inn was an expansion of a tavern that was built in 1660. It is allegedly haunted by two brothers and their ghost dog. Now that it's a private residence, no one knows if the homeowners have seen any unusual happenings.
The Vanderhoop Homestead
A charter captain in Aquinnah, William (Buddy) Vanderhoop Jr., tells of a story about a house that overlooks the Gay Head Cliffs. Now home to the Aquinnah Cultural Center, a usually happy place, the home does have a tragic history. In 1928, Vanderhoop said his father's sister, who was four years old, fell into a cistern and drowned. Some have said they hear a little girl screaming at night, though he never has.
The Vineyard Gazette Building
Though the building has been the home of the island's newspaper since the 1800s, it was something different in the 1700s. It used to be a house for several families to live, otherwise known as a "poor house." According to the legend, two men were fighting over one of the men's wives. They fought, and one fell from the roof and was killed. Those in The Gazette building say his ghost isn't angry, but he does like to spook them from time to time, leaving messages on their desks, moving coffee mugs and messing up the technology.
If you believe in the paranormal or you just love a good ghost story for fun, contact the folks at 41 Circuit Ave. where the tours originate. Vineyard Ghosts Walking Tours will lead you through the dark streets at night, by the light of a lantern, and you can listen to the haunting tales that will send shivers up your spine. Six-person minimum.
For all types of attractions, plan your Martha's Vineyard vacation today! And let A-A Island Auto Rental take care of all your transportation needs. Contact us today!