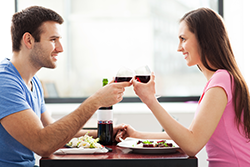 Martha's Vineyard in November
Spend a Day Enjoying Year-Round Attractions: With all the stresses of the modern world, it's hard to think about a vacation that can truly relax and rejuvenate you. Sometimes vacations can even be more stressful than daily life! Though Martha's Vineyard is known as a popular summer destination, it can be that truly relaxing haven during the off-season. And when you visit here in November, be sure to bring your appetite because many restaurants stay open year-round.
Start your day sleeping in, then go for breakfast at Little House Café, located in Vineyard Haven. With a quaint, Victorian ambience, here you'll find everything from traditional pancakes and eggs dishes to gourmet selections like a grilled brie sandwich or granola with maple syrup. There are also many vegetarian selections available as well.
Go for a stroll around the town where you're staying. You'll find that many of the more touristy-type places are closed, leaving room for local businesses that may offer discounts. If you're still in Vineyard Haven, be sure to visit Bunch of Grapes bookstore. They offer a wide selection of titles and frequently schedule author appearances and events. This was the bookstore that President Obama visited during his stay on the island. If you're a real bookworm, you'll want to check out a number of bookstores on the island, many of which stay open during the off-season.
When it's lunch time, if you want to try something different, head to the Copper Wok, which offers fine Asian-fusion cuisine. For those wintery November days, sample their noodle soup or for something bolder, try a sake cocktail.
If you're in Edgartown for lunch or dinner, and you want to enjoy a meal of total New England seafood, visit the Square Rigger. Indulge yourself with classic offerings like clam chowder, boiled lobster and baked stuffed shrimp. If some in your party aren't seafood lovers, there's plenty on the menu to entice—from prime rib to lamb chops. This restaurant is a local favorite, and you'll see why.
Speaking of indulgence, stop in to Murdicks Fudge Shoppe. Since 1887, they've been crafting sweet treats like fudge and peanut brittle using the same homemade recipes. Try their famous caramel corn, or gourmet fudge flavors like Cape Cod Cranberry Fudge or Butter Pecan Fudge. They have locations in Edgartown, Oak Bluffs and Vineyard Haven. We hear they have great coffee, too!
If your day winds down in Oak Bluffs, be sure to check out the local favorites and don't miss the famous gingerbread cottages here. Enjoy a cocktail and dinner at the Lookout Tavern and try some of the island's craft brews on tap, accompanied by a bowl of New England clam chowder or lobster bisque. Did you know that many consider this restaurant to have the best sushi on the island? It's also a wonderful place to kick back and savor magnificent ocean views, some of the best on the island, watching boats going in and out, and the sunset to close out the day.
Keep checking back and we'll walk you through another day with more year-round attractions, so you can plan your next vacation with all the must-see places. Be sure to contact A -A Island Auto Rental to get the vehicle of your choice to take you all around Martha's Vineyard. We're here for you, whether your vacation is during the season or off-season. We provide the convenience of comfortable transportation so you can get the most out of your next visit.
Talk to us today!