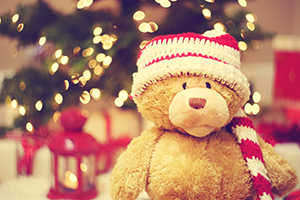 December Events on Martha's Vineyard
Come see what fun awaits you on the island! If you're visiting Martha's Vineyard this December, there is so much to see and do. There will be plenty of holiday festivities, as well as events and activities that raise money for great causes. Be a part of something special this winter—check out a sampling of holiday happenings below.
Teddy Bear Suite 2015
This month-long nonprofit fundraiser benefits the Martha's Vineyard Boys & Girls Club Afterschool Program. Come and see all kinds of dressed-up teddy bears taking over the Captain Rowley Cottage in Edgartown, open through December 23. This year, they've added the "Teddy Bear Trot" fun run that will start and end at the Teddy Bear Suite on December 20th. It's a 5k run that will have prizes for first man, woman, child and best holiday dressed person and decorated stroller. The run will be followed by a Teddy Bear Brunch at the Harbor View Hotel in the Lighthouse Grill Restaurant, with a special deal for children who bring their teddy bears with them. There will also be the popular Teddy Bear Suite raffle, trunk shows, VIP nights and more.
Gingerbread Lighthouse Competition
Sure, you've made a gingerbread house before, but have you ever made a gingerbread lighthouse? Now is your chance! Come down to the Martha's Vineyard Museum, where you'll assemble into teams of four and compete in the gingerbread lighthouse challenge! The event takes place on December 18th and the winning team will receive free passes to the Edgartown Lighthouse for 2016 and, of course, bragging rights. Teams must pre-register by contacting Katy at kfuller@mvmuseum.org.
Annual Christmas Tea, Luncheon & Shopping
It isn't too late to do your holiday shopping! Celebrate the season with tea, coffee, cookies and more. Held at the First Baptist Church in Vineyard Haven, this annual event features gifts and crafts at reasonable prices. There's also a baked goods table that's hard to resist. Tickets: $8 adults, $6 children. The Tea Luncheon takes place on Saturday, December 19, from 1 to 3 p.m.
And Many More!
There are many more events going on this time of year—holiday sales, horse and wagon rides, Christmas movies showing at Edgartown Cinemas (How the Grinch Stole Christmas playing now), and other holiday gift and craft shows. The locals really know how to have fun. Cookie decorating, anyone? Or how about a selfie with Santa? There are also art displays and a winter farmers' market. If you love to shop, this is also a great time to find some really deep discounts at your favorite island stores. And be sure to check out arts and crafts festivals where you can purchase art made by local artists. They make great gifts or souvenirs to remember your stay.
Keep checking our blog to learn more about seasonal events, holiday specials, and other exciting things about your favorite vacation getaway!
When you visit Martha's Vineyard in the winter, stay warm and cozy as you get around in one of our family-friendly or luxury rental cars. We'll let you see the sights in style! Contact A-A Island Auto Rental to experience the magic of Martha's Vineyard during the holidays. Contact us today!