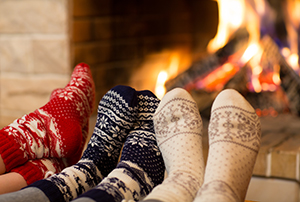 What to Do This Winter on Martha's Vineyard
Visit the island off-season and do what the locals do! On Martha's Vineyard, winter is a time of natural beauty and relaxation that makes you feel as though you're truly getting away from it all. There is plenty to see and do, so let's break it all down for you.
Dining
As we noted in previous blogs, there are many year-round restaurants open on the island. After a day of sight-seeing, come inside and take the chill off with a steamy bowl of clam chowder or any of the succulent seafood entrees available. Or take a break at one of the local taverns that offer rustic, cozy surroundings and plenty of comfort food and spirits. You can have a romantic night out at one of the many restaurants offering fine dining and breathtaking views. There are family-friendly spots where the kids can find plenty on the menu and desserts they'll never forget! For the adults, stop in to grab a bite, have a cocktail and listen to live music—a perfect end to a winter's day.
Shops
Browse the island's unique shops where you can find art and souvenirs made by local artists. During the winter many local shops offer greater discounts than at other times of year.
If you're a bookworm, visit Bunch of Grapes Bookstore in Vineyard Haven or Book Den East in Oak Bluffs and catch up on some of the newest offerings from your favorite authors. Many award-winning authors actually live on the island and do readings around town, so check the calendar to find the next event.
No visit is complete without a trip to the iconic Alley's General Store, the oldest store on the island. Open since 1858, you can find everything from groceries to fishing hooks to Slinkys. . .and did we mention the glow-in-the-dark Queen Elizabeth IIs? It's all under one roof! So if you like to poke around a while, you'll find all kinds of things.
The Arts
Movie theaters, plays, concerts—they're all alive and well in winter. There are a number of movie theaters on the island, most notably the Martha's Vineyard Film Society—a celebration of cinema where you'll find independent films, documentaries, and discussions with the director after a showing. There are all kinds of special events that support the arts—exhibits at local galleries, museums and much more. The Vineyard Playhouse is the only year-round theater on the island, offering shows for all ages. You'll find performance artists, comedy, musicals and all kinds of fun awaiting you.
Outdoor Fun
Just because it's winter doesn't mean you can't enjoy the great outdoors. Did you know there are over 120 species of birds on the island in winter? Go for a hike and take in all of the sights, like a winter sunset. Take a tour of one of the year-round working farms here. Or simply go for a scenic drive down the island's many back roads.
The best way to enjoy a scenic drive is from your comfortable luxury rental car. Contact A-A Island Auto Rental to take you wherever you want to go on the island. What are you waiting for? Let your adventure begin!