The Fantastic Public Beaches of Martha's Vineyard
At A-A Island Auto Rental, we are often asked which Martha's Vineyard beach is best. I have compiled a short list of quality beaches that don't require serious excursions to reach. Although we can't guarantee you'll have the beach to yourself, these beaches are all worth visiting...
1) South Beach/ Katama Beach- Edgartown
South Beach is hugely popular because of the wide expanses of sand and good wave action. It is located in southern Edgartown just beyond the Katama Airfield. Take a bike ride, catch the bus (#8), or better yet- a rental car to Katama and park in the dirt lot on the right of Herring Creek Rd or just along Atlantic Drive. There are changing rooms and life guards on duty during peak summer hours. The beach is wide enough for a game of football or volleyball, so bring your friends.
2) East Beach- Chappaquiddick
East Beach will require a bit more commitment but is well worth the trip. Take the 'On Time Ferry' from Edgartown harbor to Chappy, then drive straight out to the Dyke bridge. The beach is a Trustees of Reservation property, so there may be a small fee for non-members. Unfortunately, rental vehicles are not allowed on the beach, but if you have a privately registered 4x4 you can get a beach pass.
3) Long Point Beach- West Tisbury
Long Point beach is known for filling up quickly, so go during non-peak hours to avoid the crowds. Another Trustees of Reservation property, so play by the rules and enjoy the epic southern Martha's Vineyard sand.
4) Moshup Beach- Aquinnah
The famous Aquinnah Cliffs are best seen from Moshup Beach on the Southwestern tip of Martha's Vineyard. Park your car in the public lot by the lighthouse ($15 at most during peak summer) and take the 10 minute walk through the dunes down to the beach. There are a lot of rocks obscured in the water so be careful not to dive in too quickly. It's illegal to tread on the cliffs or remove the clay, so look but don't touch.
5) State Beach- Edgartown/Oak Bluffs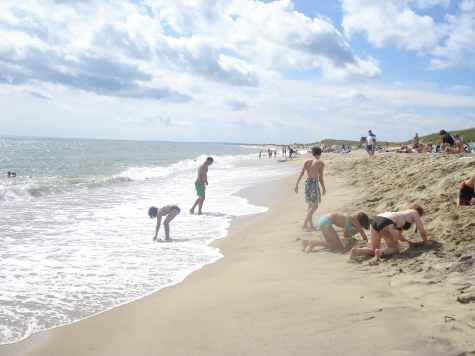 Since State Beach is located on the Northeastern part of the island, the waves are much mellower. If you have little ones, this place is ideal. Parking is available along the entire road and by the 'bend-in-the-road' on the Edgartown side. The water is shallow and warmer so you never have to get out. During the summer drive slow over the bridge, as lots of folks will likely be waiting their turn to jump...
Hopefully these bits of advice help you make the most of your vacation or day-trip. Drive safe.