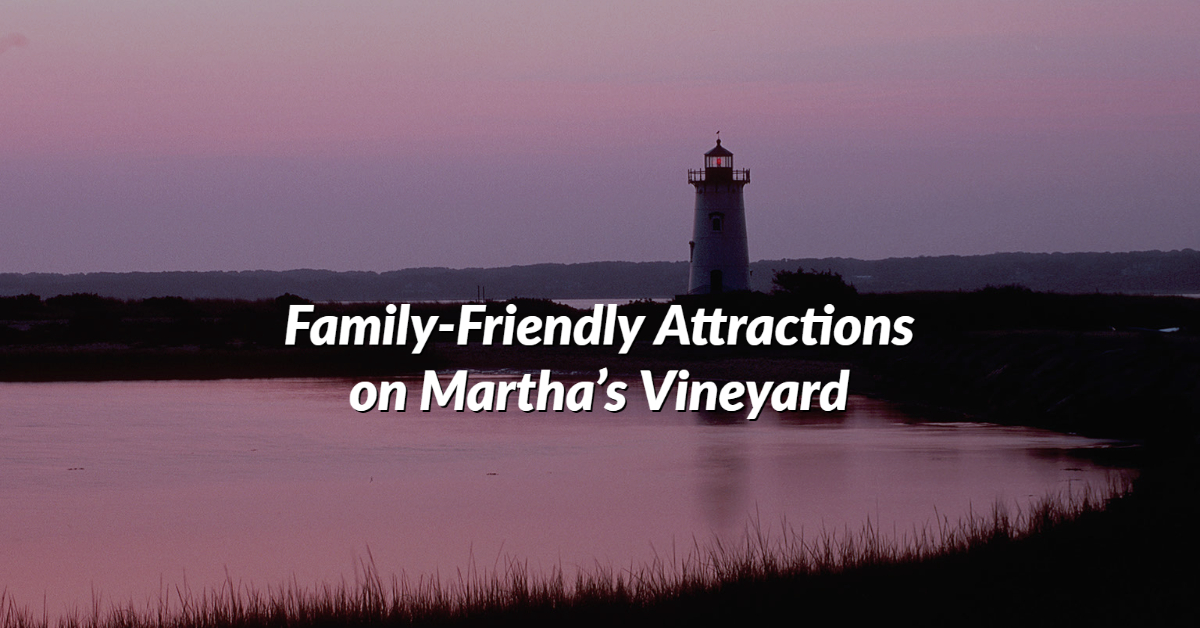 Family-Friendly Attractions on Martha's Vineyard
Did you know that Martha's Vineyard is a place that has some of the most amazing beaches in the world? The island is also famous for being a romantic harbor town. It's also the home of some historic lighthouses. Although Martha's Vineyard is the perfect paradise for adults, it's also a great place for children, as there are many things to do for the entire family. Speaking of which, here are some family-friendly attractions on Martha's Vineyard. First and foremost, no trip to Martha's Vineyard with your young children would be complete with a visit to the Flying Horses Carousel.
It's been in operation since 1876, which makes it the oldest continually operating carousel in the United States. A ride on the Flying Horses Carousel is perfect for young children, who enjoy it immensely. In addition, you can earn free rides if you catch the brass ring. If your children are interested in animals, a trip to the Island Alpaca Company of Martha's Vineyard is a must. In essence, it's a 19-acre alpaca farm that's located in Oak Bluffs. The farm is full of cute, cuddly, and friendly alpacas.
Children under the age of 14 years old can walk the alpacas with their parents or guardians. If you have teenagers 15 years or older, they can lead an alpaca on their own. This is the perfect place for animal lovers of any age. Felix Neck Sanctuary is a 350-acre wildlife refuge that's perfect for children who like to explore in the great outdoors. You can walk or hike on a variety or trails in order to explore different habitats and wildlife. Felix Neck Sanctuary is also home to 100 different species of birds.
If you're planning to travel to Martha's Vineyard in the Autumn in order to explore the island with your children, it absolutely makes sense to rent a vehicle to get around to the various places that you want to see and experience. That way you can come and go as you please without having to walk, pay for an Uber or Lyft or go by the bus schedule. We even provide complimentary pick-up at all of the Oak Bluffs, Vineyard Haven and Edgartown Inns and Hotels to make it even easier for you.
MV Auto Rental is by far the most popular choices for vehicle rentals on Martha's Vineyard. We have proudly served the island and its many visitors for over 25 years. We're proud to offer low rates for daily, weekly, and monthly vehicle rentals. Our wide selection of new Jeep Gladiators, Convertibles, 4-Door Cars, SUV's and Minivans not only meet but exceed the needs of any visitor. Our team of dedicated professionals are famous for providing fast service and the utmost attention to detail that you truly deserve.
We have four convenient locations, so whether you take a ferry to Vineyard Haven or Oak Bluffs, our offices are within walking distance to each terminal. We also have an office at 196 Upper Main Street in Edgartown and offer complimentary pick-up/drop off service at the Martha's Vineyard Airport. Please make your reservation online or call us. Our hours of operation are 8am - 6pm in Vineyard Haven and Oak Bluffs. If you require before or after hours pick-ups, please call us to make arrangements.