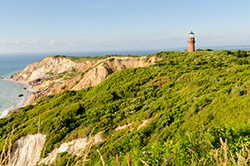 How to Plan for Ferries or Airplanes
Martha's Vineyard is a scenic island, accessible by either ferry or airplane. Before your trip, it's important to plan ahead, no matter which way you travel. Here are some helpful tips:
Vacation Checklist for Ferry or Plane to Martha's Vineyard
Make Your Reservation with A-A Island Auto Rental
Whether you reach the island by ferry or plane, the first thing to do is to make a reservation with A-A Island Auto Rental. We offer a variety of transportation services from either the ferry docks or the airport. The easiest thing to do is to contact us at 800-627-6333 or make your reservation online and talk to our friendly staff, who are available to walk you through the process. If you plan to call, our hours of operation are 8 a.m. to 6 p.m. in Vineyard Haven and Oak Bluffs.
By Ferry
There are ferries that travel to Martha's Vineyard all season long. If you take a ferry to Vineyard Haven or Oak Bluffs, you'll find that A-A Island Auto Rental has a location in both towns within walking distance from each ferry. So as soon as you arrive, you can come see us and, within minutes, pick up the vehicle of your choice.
We've also added a location in Edgartown as a pick-up and drop-off location at 196 Main Street.
There are six ferry services that leave from areas on the Cape (Falmouth, Hyannis) to Rhode Island. You can contact the one that suits you best and get information about their hours of operation here.
By Plane
If you're arriving by plane instead of a ferry, we offer a complimentary pick-up service at the Martha's Vineyard Airport. The airport has been serving the community since the 1950s, offering a quaint, relaxing atmosphere that reflects the island itself. The airline serving the island is Cape Air, with flights from Boston, New Bedford and Nantucket. So wherever you're traveling from, you'll have a connecting flight from one of these areas that takes you directly to Martha's Vineyard.
As with all airline travel, make sure you follow the current TSA rules about liquids and other prohibited items in carry-on luggage. Always be sure to have your ticket and I.D. handy for the gate agents. And for Massachusetts residents, your driver's license will satisfy the I.D. requirement until 2020, when you'll need to get an upgraded license. Visit mass.gov for details on the license renewal requirements.
Hotel Information
The first reservation you made will be your hotel or a bed and breakfast inn on the island. We have arrangements with many hotels and inns in the area, so after you've made your reservation, call us to see what services we provide that hotel.
If your visit is short, and you need a vehicle for only a day or two, we offer complimentary pick-up service at all of the Vineyard Haven, Oak Bluffs and Edgartown inns and hotels. If you need after-hours pickup services, please call us to arrange your pickup.
A-A Island Auto Rental has been serving visitors to Martha's Vineyard for more than 18 years. Contact us today! We look forward to serving your transportation needs this season!