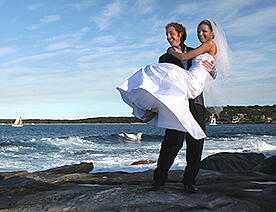 Looking for someplace picturesque, off the beaten path and peaceful for your wedding and honeymoon? Why not come to Martha's Vineyard? Located just south of Cape Code, Massachusetts, the island received its first English settlement in 1642 although it had been inhabited by the Wampanoag before then. Despite its early history, the area currently only houses about 16,000 residents. However, summer visitors increase the population to around 100,000 because of the many attractions, suitable for those getting married and on honeymoon.
Want a historic colonial property for your ceremony? How about a windswept locale with waves lapping in the background? Then there are the white steepled churches, covered bridges, gazebos, farms, and romantic sailing ships floating on the water. Some of these locations can handle only a small ceremony while others can fete hundreds.
As for honeymoon sights, first and foremost are the beautiful beaches, although you have to be careful that the ones you choose are not exclusive to residents. Then there are the two lighthouses, one of which is 150 years old. It's located on Gay Head, known for its multi-colored clay cliffs and views of St. Elizabeth Islands. If you prefer picturesque towns, then travel to the Age of Whaling in Colonial Edgartown, the largest town on the island.
You'll need a car to get around these attractions conveniently and quickly. When the weather is nice, nothing beats convertible Mustangs or MINI-Coopers for open-air excursions. Coming with a group? Then a Dodge Caravan or Durango can carry up to seven. If you like small and cute, then the Fiat 500c will fill that desire. Contact us today to see how we can help you.