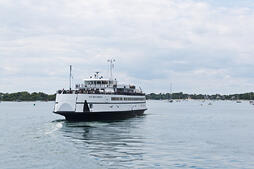 Are you scheduled to fly into Providence TF Green Airport for an extended vacation or business trip? If so, you may want to think about scheduling some time to explore Martha's Vineyard. Thanks to the Vineyard Fast Ferry in Rhode Island and our A-A Island Auto Rentals, it's extremely easy to do.
When you arrive at the airport, look for the Vineyard Fast Ferry shuttle counter and buy your tickets. Then climb aboard the shuttle. It will take you to the ferry terminal in nearby Quonset Point. Depending on the traffic, the trip from the airport to the point is likely to take around 15 minutes.
Once you are in Quonset Point, hop aboard the Vineyard Fast Ferry and enjoy a 90 minute ride to Oak Bluffs Harbor. Oak Bluffs is a beautiful, little resort town that's home to one of our A-A Island Auto Rental locations. So when you disembark, just head towards Circuit Avenue and grab a great rental vehicle from us. We have many to choose from, including Hyundai Elantras, Ford Mustang convertibles and 2-Door Jeep Wranglers with soft tops.
To rent one of our fabulous vehicles, you'll need to be of appropriate age and have a driver's license as well as a major credit card. After you sign the rental agreement, you'll be good to go for as long as your contract with us allows. Afterward, you have the option of leaving the vehicle at any one of our A-A Island Auto Rentals locations.
For more information about the Vineyard Fast Ferry and the types of rental vehicles available in Martha's Vineyard, please contact us at (800) 627-6333. We are open year-round and have extensive knowledge of the Oak Bluffs, Vineyard Haven and Edgartown communities. So expert assistance with directions and informed, travel suggestions are always available to visitors that ask.