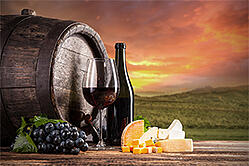 Who says that Thanksgiving has to be spent holed up in some cold, skiable location waiting for the artificial snowmakers to get to work? It certainly isn't a rule that any of us here at A-A Island Auto Rental would hold a family to, especially since Martha's Vineyard, Massachusetts, has so much to offer November visitors.
Take a quick look and see:
Annual Holiday Gift Show (Oak Bluffs)
Before Thanksgiving arrives, consider heading over to Oak Bluffs and enjoy meandering through the Featherstone Center for the Arts' Annual Holiday Gift Show. It's slated to begin the weekend of the 21st and run straight through until December 18th. We're sure that you'll run across an item or two that is simply irresistible. And if for some reason you don't, never fear. There's a sleigh full of other places where you can satisfy your inner Santa.
Thanksgiving Dinner (Throughout the Vineyard)
Later, why not slide into your rental car and follow the delightful aromas to one of our island's restaurants and enjoy a classic, Thanksgiving dinner? There are several that we expect to be open on the big day and we'll share their names with you as the holiday draws near. Of course you could also choose to book a gingerbread style cottage, complete with its own kitchen, and make your own holiday meal on the fly.
Annual Thanksgiving Festival (West Tisbury)
If you're hoping to shop after feasting too, be sure to drive your rental car to West Tisbury's Ag Hall. It's the site of the ever popular, Annual Thanksgiving Festival, which kicks off the weekend of November 28th at 10 a.m. A modest $2 parking fee is all you'll likely pay to get into the door. Once you're inside, they'll be plenty of fine, handcrafted goodies to buy in anticipation of filling loved ones Christmas stockings.
To learn more and start making plans to celebrate Thanksgiving in Martha's Vineyard, Massachusetts, please contact us at A-A Island Auto Rental today.