See the Island in a Whole New Way!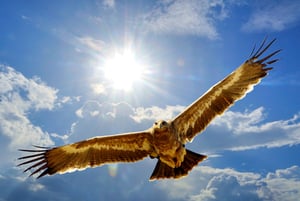 If you'd like to experience the breathtaking scenery of Martha's Vineyard, try taking a biplane or private helicopter charter tour. There are many companies that offer these unique tours, so read on to explore the options.
Aerial Tours of Martha's Vineyard
See the rocky cliffs, lighthouses and harbors in a whole new way. Imagine traveling through the clouds, looking down at the shoreline, the quaint villages and all the amazing views from up above! Whether you see the island by helicopter or biplane, tours begin at Katama Airpark, an air field dating back to the 1920's. It's a grassy field in a rural area that doesn't seem anything like an airport. Located in Edgartown, the air field is as unique as the island towns themselves!
Classic Aviators, Ltd.
Classic Aviators offers several different tours, depending on your schedule and your budget.
For a quick, 15-minute flight, there is the Chappaquiddick Tour, which gives you scenic views of Chappaquiddick and downtown Edgartown.
The Beaches Tour is 25 minutes, and offers views of Chappaquiddick, State Beach and the Farm Neck golf course in Oak Bluffs.
For 35 minutes, you can do the Towns and Beaches Tour, which takes in gorgeous beach views, including the down-island towns of Oak Bluffs, Edgartown and Vineyard Haven, including their harbors and lighthouses.
The Aquinnah South Shore Tour, a 45-minute flight, gives you views over Chappaquiddick and along the south shore of Martha's Vineyard. On this tour, you'll travel up-island to Menemsha and the cliffs of Aquinnah.
If you're up for an hour tour, check out the Island Loop, which gives you awesome views of the entire island!
Guests of these tours have given them rave reviews. The pilots know Martha's Vineyard so well, they're the perfect guides to show you the sights. And you get to sit up front, while the pilot flies from the backseat, so you can see even more. You can ask questions and learn many things, including the history of the island. Check out their website for rates.
Vineyard Flyer
Located in Vineyard Haven, Vineyard Flyer has been an established provider of scenic air tours of Martha's Vineyard since 1999.
Vineyard Flyer offers 15-minute tours for two to three passengers. Most tours give you views of the east side of the island, but other tours are also available. You can request a customized tour, depending on your interests. They recommend you reserve a tour as soon as you can, because they fill up fast.
Helicopter
You can charter a helicopter for a day, and feel like royalty, flying high above the island. To charter a helicopter, call 914-450-2635 for information. You can also call the Katama Airpark for information about flight schedules.
Whichever way you go, consider taking to the skies to get the best views of Martha's Vineyard!
When you get back on land, remember that A-A Island Auto Rental is your guide to all the good stuff! We provide transportation around the island so you can get to every attraction easily. Contact us today!