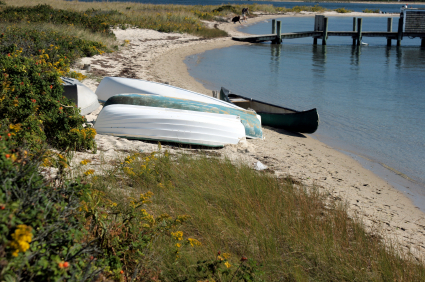 Martha's Vineyard: Take a Self-Guided Three Hour Tour on the Quiet Side
If you're looking for a tranquil spot to refresh and rejuvenate your spirit this summer, we recommend checking into the following venues on Martha's Vineyard, where you can take a self-guided Three Hour Tour on the quiet side of the island. But first, leave your car at home and avoid the stress of working around the limited ferry availability for transporting your car to the island. Seriously, the ferry is booked for car transport months in advance, and it can be pretty challenging to find a spot that meets your schedule, so contact us to rent a car on the island, and we'll help turn your vacation into the most peaceful, perfect time of your life!
So where are these remote, secluded gems? Well, they're both on the western side of the Vineyard, surrounded by ocean and uninterrupted beauty:
The Outermost Inn (in Aquinnah, on the Gay Head Cliffs, www.outermostinn.com is surrounded by 20 or more acres of sea grass, fields, and ocean shrubs, with rooms that offer views of the Atlantic, and an onsite restaurant where they make wonderful dishes from their own herb and vegetable garden, and the best choices of organic meats available. And while you're dining, you can look out into the meadow and watch the osprey nesting, raising their young, and learning to fly. You may never want to leave.
The Beach Plum Inn www.beachpluminn.com looks over Menemsha Harbor and is surrounded by beautiful gardens and pastures, where their alpacas and ponies play in the fields, and the crickets and birds sing all day. Their restaurant offers world-class cuisine, with views of the harbor and fields. What a spectacular spot! Imagine, sipping a glass of fine wine on the terrace and ending your day to the sound of crickets lulling you to sleep!
Now, imagine that morning has arrived and you're ready for that Three Hour Tour. Jump in your car and head to West Tisbury. It's about a 10-minute drive from Menemsha. And at 10 AM on Wednesday and Saturday, the farmer's market opens, where you'll hear live music, enjoy fresh coffee, smell fresh herbs and hand-made soaps, breads, scones and see all kinds of treats. Here's a link: www.thewesttisburyfarmersmarket.com/.
Then mosey across the street to the Field Gallery & Sculpture Garden: www.fieldgallery.com/, where you're sure to find at least one piece of art made by an island artist that totally captivates you.
Now, for a more ambitious take on things, head back to your hotel and pick up your rental bikes, and bike to Larsen's Fish Market, www.larsensfishmarket.com, where you can buy a lobster and freshly shucked oysters and take them out to the dock and have lunch on a lobster crate while watching the fishing boats unload their fresh catch of the day.
From here, take your bikes around the bend to the bike ferry, www.marthasvineyard.patch.com/listings/the-bike-ferry, give a wave and a yell to the skipper, and he'll come over to ferry you to the other side, where you can continue biking to see the beautiful Gay Head www.tripadvisor.com/Attraction_Review-g29528-d208147-Reviews-Gay_Head-Martha_s_Vineyard_Massachusetts.html cliffs of colored clay and walk along the beach, with waves crashing at your feet. It's quite lovely, and bound to push the routine of your life back, way back, so you can take a break and be refreshed.
Contact us today for your auto rental needs for your next relaxing tour of Martha's Vineyard.