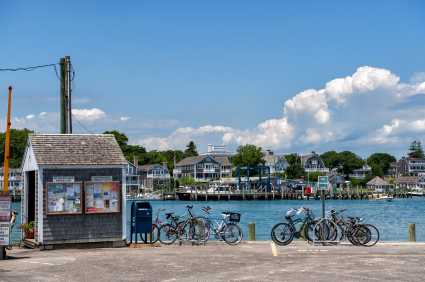 Hobnobbing In Edgartown: The Spirit of America Is Evident!
If you're considering a visit to Martha's Vineyard, you won't be disappointed. The only problem you may encounter is that the beauty of the area will take your breath away! There's something for everyone, from sea lover to land lover.
Since this quaintest of islands can only be reached by ferry, the first thing you need to do is reserve a dependable, late model vehicle that's ready for you when you step off the boat. Whatever your needs--a family van, sedan, even something with the top down, A A Island Auto Rental will make sure you tour this spectacular island in style! There are many nooks and crannies to explore on the Vineyard, but hobnobbing in Edgartown is an experience you'll never forget. And, you never know who you might run into at a local café, on the bridle path, or golf course. It could be a celebrity, rock star, world famous aristocrat, even the President of the United States!
Edgartown is the main hub for shopping, dining, museums, art galleries, etc. in Martha's Vineyard. It simply oozes with charm and historical atmosphere, having played an important role in shaping our country's foundation. You'll learn so much about the bygone eras as you step back in time in the old school houses, churches, libraries, and tour the grand 18th century homes once occupied by whaling captains, such as The Daniel Fisher House and the Desire Osborne House, among others. The intricate stain glass windows in St. Andrews Episcopal Church which were created by Louis C. Tiffany (yes, the one and the same!) will awe you! The church itself dates back to 1899. The oldest home on Martha's Vineyard is The Vincent House, built in 1672, and sits on some of the most beautiful grounds in Edgartown. The kids (and kid in you) will enjoy all the excitement at the Farm Institute, a 162-acre hands-on working farm that teaches children about agriculture. There's also a corn stock maze you might get lost in!
For proof that mom and pop stores CAN be successful, take a jaunt over to Alley's General Store in West Tisbury. This store has been in business since 1858 and is the oldest operating retailer on Martha's Vineyard! They offer a variety of goods by way of produce, groceries, hardware, toys and sporting supplies. Sit on the front porch and sip a soda, or chat with a newly made friend. Your afternoon isn't complete without a short drive to Oak Bluffs. You'll want to take a bite out of those picturesque Gingerbread Cottages! Everyone will want to ride The Flying Carousel while there. A designated national landmark by the U.S. Dept. of Interior, it's the nation's oldest platform carousel. Here's a narrative history: "Constructed in 1876 by Charles Dare, it is one of only two Dare carousels still in existence. Originally operated as a Coney Island, NY amusement, it was moved to Oak Bluffs in 1884, where it has lived in its red barn, delighting generations of Island residents and visitors ever since."
American lighthouses are a beacon to us all! There are 5 fully functional lighthouses situated along the northern sections of the Vineyard, some dating back to the early 1800's! Your family will definitely want to tour these. As you drive along the shoreline, stop and enjoy the many scenic beaches. The clean sands and comfy water temps are amazing! Many are open to the public while others are private to its residents and guests; however, a list of the beaches both public and private is available at http://www.mvol.com/beaches/.
Don't leave Edgartown without visiting the Mytoi Garden on Chappaquiddick, set within an almost fairytale-like emerald forest. Its arched footbridge takes you across a pond to an island where winding footpaths lead you into pretty birch groves, a dell of camellia and a unique rock garden. There's a shelter designed to give expansive views of the garden, and for those who like time for meditation, it's perfect for some peaceful solitude. Across Dike Road from the garden, a quarter-mile nature trail winds through pitch pine forest to Cape Poge Wildlife Refuge and the salt marshes of Poucha Pond.
There's so much more to discover! The friendly folks at A A Island Auto Rental can give you the scoop on current events happening on the island, the best restaurants, accommodations, secret fishing areas (Shhh! You'll want to keep that info for yourself!) and anything else you need to make your visit on Martha's Vineyard a cherished experience! Contact us.