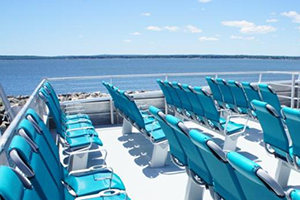 Fast Ferry Helps Train Riders Vacation in Martha's Vineyard with Ease
There use to be a time when traveling by train was a romantic, but not necessarily convenient, way to go on vacation. Thanks to the Vineyard Fast Ferry and A-A Island Auto Rental, that is no longer the case. Summer vacationers can now hop off of the Amtrak train on Railroad Avenue in West Kingston, Rhode Island, and be enjoying the sights on Martha's Vineyard in no time.
There is a reasonably priced limo service run shuttle available at the West Kingston Station that will take vacationers on a comfortable, 16-mile drive to the ferry's dock in Quonset Point. The limo service's shuttle vehicles are not automatically outfitted with car or booster seats. So when applicable, parents must bring their own or rent one from the limo service for a modest fee.
Once on the island, they may rent another one, along with other gear, from MV Baby Rent. The company will deliver the car or booster seat, and any other rental items requested, to Oak Bluffs Harbor locations. Oh, and they'll pick the rental items back up after the vacation ends too.
From the point's dock, vacationers may then board the passenger-only ferry. Please note that there are baggage allowance and freight policies in effect as well. Thus, travelers may want to check with the fast ferry office for an updated look at their policies.
After everyone gets settled in on the fast ferry, it will be a relaxing, 90-minute ride to the docks in Oak Bluffs Harbor. During that ride, vacationers will be able to sit in an air-conditioned room and watch TV or stretch out on the sundeck with cool drinks and snacks at their sides. Public restrooms are also available onboard for those that may need them.
Once the fast ferry docks on Martha's Vineyard, it's a short walk to the A-A Island Auto Rental office, where visitors can quickly pick up their rental vehicles and be on their way. The immaculately kept rental vehicles may accommodate anywhere from one to seven passengers at a time. The highest capacity vehicles in the company's fleet are the well loved Chevy Captiva, Dodge Caravan and Dodge Durango.
And perhaps most convenient of all, reservations for all three modes of transportation may be made online with a few keystrokes. Plus, there may be special discounts and packages available for those that make those advance reservations too. To learn more about making arrangements to travel from West Kingston to Oak Bluffs Harbor, please contact us.