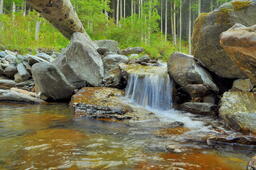 There are many inviting towns to visit during a late summer trip to Martha's Vineyard, MA, and West Tisbury is one of them. It's home to several elements that are reachable by island auto rental and could be credibly paired together to create the perfect weekend getaway.
For example, you could drive your rental car on over to Lambert's Cove Road and check into the Cove Inn. It's actually an inn, farm and restaurant all wrapped up into one quaint, 7-acre package. We love it for a vast array of reasons, including its proximity to the beach, Seth's Pond, Long Point Wildlife Refuge and the Polly Hill Arboretum.
There are only 15 guest rooms at the inn and they're spread out over the 7 acres. So you'll undoubtedly feel like you have your own slice of Martha's Vineyard nirvana. Each of the rooms comes with access to an onsite private beach and expertly prepared-to-order breakfast. Of course the meal's ingredients come fresh from the owners' farm.
Once you've finished with your morning repast, why not visit the beach or pond? They are traditionally open from early morning to 9 p.m. at night. Feel free to bring your own beverages to the beach, just as long as they are in plastic containers. And keep in mind that it is an unguarded area. So only swim if you have the skills needed to stay safe.
If you get tired of swimming or lazing about in the sun, a trip to the wildlife refuge or arboretum should help get the kinks out. Both offer access to walking trails and picnic areas. The refuge is generally accessible from 9 a.m. until 5:30 p.m. and the arboretum remains open until sunset. They are each great places to check out the local flora and fauna.
After a day spent enjoying West Tisbury's attractions, you may want to drive your island rental car to the State Road Restaurant. Located on State Road, the staff serves dinner, dessert and wine by the glass. Warning, the opera torte, island grown chocolate bar and regional cheeses will likely have you begging for seconds.
To learn more about getting around West Tisbury with one of our island auto rentals, please contact us. The town is located roughly 15 to 20 minutes away from our Vineyard Haven, Edgartown and Oak Bluffs' locations.