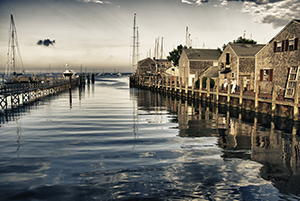 Every community has its notable cast of characters and West Tisbury is no exception. It was once the home of Nancy Luce, who would have celebrated her 200th birthday this year. She is being celebrated at the 2014 Halloween Festival in Vineyard Haven and in a Martha's Vineyard Museum exhibit that's currently slated to open in November. So why not make arrangements for a Vineyard car rental and check out all there is to love about Luce?
The festival is set to take place on October 26th from noon until 2 p.m. and the exhibit will run from early November 2014 through February 2015. The festival is family friendly and free to attend. Seeing the museum exhibit, on the other hand, requires the admittance of a modest fee. In most instances, entrance fees vary by season and start at around $3 for kids.
For those that may have never heard of her before, she was born in 1814 to a family of little means. But that didn't stop her from creating art and attracting attention from locals and visitors alike. At the time, she was known for her handwritten poems, makeshift books and seemingly boundless love of chickens. She died in 1890 and is buried in West Tisbury, which may be reached via a Vineyard car rental too.
Today, her poems may be purchased in modern day form through various retailers. Titles to look for are A Complete Edition of the Works of Nancy Luce and Consider I Poor. The later was published by the late author, Walter Magnes Teller. Before putting pen to paper, he was a farmer. So perhaps he felt an affinity towards Luce and understood admiration of her animals. Since he is a rest now, we'll never know for sure.
As for the other remnants of her life, they are scattered across. The Duke County Historical Society has some items and understandably, the Martha's Vineyard Museum does too. In addition, island artists like Daniel Waters have created works in her honor that may be viewed or purchased as souvenirs. He has a studio in West Tisbury.
Prices for Vineyard car rental services vary and you can find out more about them through our Vineyard Haven, Edgartown or Oak Bluffs locations. Just contact us in advance of your trip either online or by phone. We'll help you get to all of the locations associated with West Tisbury's famous resident and back home again.