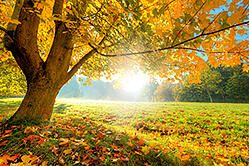 Aaah fall! It's the perfect time to go out in search of memorable foliage and enjoy the chilly breezes rolling in off of the Atlantic Ocean all at the same time. Some people opt to see the colorful leaves via electric bicycle and others choose to book an island car rental just in case those breezes get a bit too cool. At A-A Island Auto Rental, we've got you covered on both accounts and we can let you in on the best fall foliage viewing spots.
Polly Hill Arboretum (West Tisbury)
One fall foliage viewing spot that's a real winner is the Polly Hill Arboretum. It's home to a variety of maples, moosewood, Japanese beautyberries and other trees whose leaves change color in the fall. There are also late blooming plants and shrubs on the property too, like sweet autumn clematis. For a modest donation, visitors may access the grounds by car rental or electric bike year round, from sunrise until sunset.
Felix Neck Sanctuary (Edgartown)
Also reachable by rental car and open from dawn to dusk is the Felix Neck Sanctuary. It has several walking trails, including the Jessica Hancock Memorial. It features beetlebung trees, which frequently produce purple hued leaves at this time of year. Depending on the time of day and how far into the season it is, you're also apt to encounter barn and snowy owls.
Gay Head Cliffs (Aquinnah)
Speaking of trails awash in color, you might want to put the Moshup and State Road on your autumn itinerary too. They are located near Aquinnah's Gay Head Cliffs. Look for colors like stunning reds, oranges and yellows and make reservations at The Outermost Inn. Their rooms offer birds' eye views of the fall colors as does the area's lighthouse on a clear day.
Those are just three spots on Martha's Vineyard where the leaf peeping tends to be sublime. To learn more about taking an island rental car or electric bike out to see the fall foliage, please contact us today.