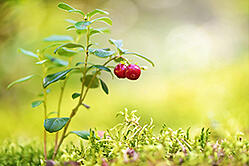 Small, red, tart and delicious beyond all compare. That's just one way to describe the autumn fruit that has long been a staple of Martha's Vineyard cuisine. Yes, we are talking about cranberries. There is no better way to experience them than a trip that involves Martha's Vineyard car rentals, Cranberry Acres and a visit to Aquinnah.
When Native Americans first settled Martha's Vineyard, cranberries were a vital part of their existence. They used them for everyday sustenance, currency and meals served at special celebrations. As a matter of fact, they even had a fall holiday solely dedicated to the small fruit and its big impact on their way of life. You can read more about it in books like Tom Dresser's, The Wampanoag Tribe of Martha's Vineyard: Colonization to Recognition.
At that time, many members of the tribe lived and worked in Aquinnah, which is a fact that remains true to this day. Because of that, no autumn visit to Martha's Vineyard would be complete without a visit to the charming community. Stay overnight in the Totem Pole, soak up the history involved and then take in the sights before heading off to Cranberry Acres.
Situated in Tisbury, the 45-acre spot is home to cranberry bogs, a cranberry processing shed, three ponds, a wildlife viewing area and walking trail. So allow an hour or two for the walk, full exploration and nature photography stops along the way. Afterward, consider swinging by one of the area's restaurants in search of a cranberry infused dish or cocktail. You might also want to check out some of the local grocers like Cronig's State Road Market and pick up some cranberries to go. They make excellent, nutritious snacks.
To learn more about booking a Martha's Vineyard car rental and going out in search of cranberry goodness, please contact us today. We have comfortable vehicles in our fleet and locations throughout the island.