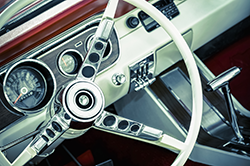 In the 1960s, a quart of milk was likely to cost you .26 cents and round steak was usually a mere $1.06. JFK, Lyndon B. Johnson and Nixon all spent time in the White House. Our troops were in Vietnam and life was good on Martha's Vineyard. At least that's how many of us remember it. And if you'd like to take a drive down memory lane too, contacting our Vineyard car hire and taking a trip to Martha's Vineyard Museum is the best way to do it.
From now until April 2015, they'll be hosting a very special exhibit that focuses on what life was like in the 60s. It contains information about the Civil Rights Movement, America's first moon landing and other pivotal moments that took place during the tumultuous, unforgettable decade. Admission prices start at $4 for children and the museum generally opens from 10 a.m. until 4 p.m., Monday through Saturday. So there will be time leftover to take one of our Vineyard car hire's vehicles out for a spin.
We'd suggest renting our modern day Ford Mustang for two simple reasons. The car that started it all was made in the 1960s and they appeared in 1960s films. Some of the productions that featured the fabulous muscle cars were Bullitt (1968) and Goldfinger (1964). If our Ford Mustangs are already rented, try our contemporary version of the Mini Cooper. Its ancestor debuted in 1959 and played a role in 1960s culture too. Does anyone out there reading this remember car stuffing? Those that do may recall the Mini Cooper was one of the popular vehicles used during such stunts.
After checking out the exhibit, why not visit some of the island's shops and pick up some 1960s style gear? Menemsha Blues usually has floppy sun hats and flip flops for sale. You'll also likely find rainbow chakra scarves at New Moon Magick and crocheted handbags at Island Alpaca Company to help make your 1960s outfit complete. For all of you tie-dye shirt fans out there, some of our local shop keeps have them on offer as well. Just gravitate towards the stores that traditionally sell beach gear and you're bound to find a few that will catch your eye.
To learn more about our Vineyard car hire services and make plans to drive back to the 1960s in the days ahead, please contact us today. We'd love to help make your trip one for the memory books.