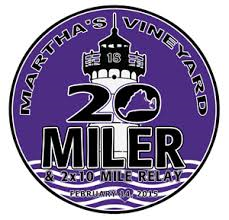 Book Martha's Vineyard Rental Cars Now and Attend the Annual 20 Miler Race
If you love to run or are just hoping to keep that New Year's resolution to get fit, now's the time to plan a trip to Vineyard Haven, Massachusetts. On Valentine's Day Weekend, the charming community will be hosting an island favorite, the Martha's Vineyard 20 Miler and 2x10 Mile Relay. This year, the pre-race activities are expected to start at 9 a.m. on Saturday, February 14th and our Martha's Vineyard rental cars can help get you and your faithful cheerleaders to the event on time.
Because the USATF-sanctioned sporting event always draws a large crowd, it is best to reserve our rental cars now as well as a room at the Mansion House Inn. It's one of the top-notch, year-round lodging establishments that are located close to the two races' official starting lines and our rental car office. Oh, and you'll certainly want to pre-register for the race too. All of the information and forms needed to do that are available on the race organizers' website.
The races are expected to officially get underway at 11 a.m. sharp and end at 1 p.m. A post-event awards ceremony and celebration will take place thereafter at the school in Oak Bluffs. So during the course of the races, runners will actually be making almost a full loop that includes locations like East Chop, Edgartown and the 5,343+ acre Manuel F. Correllus State Forest. With that said, dress in warm clothes and be prepared to experience a few chilly sea breezes along the way.
Speaking of which, you may want to keep those warm clothes on and return to the forest after the race to check out some of its other recreational areas. For example, there are places to cross-country ski, hike and go horseback riding, weather permitting of course. A complimentary trail map is located online should you decide to take our advice and make the return trip. We should also mention that it isn't the only place on the island where you can continue to run for free during your stay.
The list of others includes, but isn't limited to the Polly Hill Arboretum and the MV High School. The high school typically opens its doors twice a week, in the evenings, for people that want to walk indoors as part of a group. You can find out more about the group by reaching out to the Martha's Vineyard Partnership for Health prior to your arrival. As for the arboretum, they offer guided walks once a month until spring. Plus, you're welcome to hike or run without a guide daily, year round.
To discover more about what's going on during race weekend and reserve your Martha's Vineyard rental cars before they're all gone, please contact us today. Right now, we have quite a few vehicles left for rent but we don't expect to have them stick around for very long.