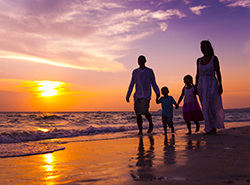 8 Must-See Attractions on Martha's Vineyard
If you're planning a visit to Martha's Vineyard this summer, here are 8 not to miss destinations.
1. Gay Head Cliffs - Aquinnah
Experience breathtaking views at these dramatic, colorful cliffs. Rich with Wampanoag history, the cliffs have been preserved as a historical site. Sorry climbers, this means they can't be climbed or dug. But you can still see amazing views.
Before you arrive, on your way to the overlook, stop into Stony Creek Gifts where you can get authentic "wampum" jewelry made from Quahog shells.
2. Menemsha Beach
Known for its legendary sunsets, this is the place to go at any time of day. You can have lunch by the docks and watch fresh catches being unloaded from the boats. The abundance of fresh lobster and other seafood makes it cost much less here than in Edgartown.
3. Island Alpaca
Home to 78 alpacas, this special farm will teach you just how much alpacas benefit the farming industry. Also, there's a store where you'll find the greatest selection of alpaca wool on the East Coast.
4. Martha's Vineyard Film Center
The island is already a popular spot for Hollywood stars to come and do play readings at the Martha's Vineyard Playhouse in Vineyard Haven. So it made perfect sense when Richard Branson designed this theater, also in Vineyard Haven, to show art films and first-run films. Every seat has an unobstructed view of the screen. And be sure to stay after for Q & A sessions with the filmmakers.
5. Bunch of Grapes Bookstore
If you're shopping in the Vineyard Haven Boutiques, book lovers won't want to miss this special bookstore. President Obama and Michelle Obama purchased their daughters' summer reading list here. You can find many titles, as well as bestsellers here.
6. Larsen's Fish Market – Menemsha
If you're a seafood lover, come and visit this charming fishing village, where steamed lobster, stuffed clams and fresh clam chowder are all made with care. This is the place where you'll find real working docks. Enjoy a meal and see where parts of the movie Jaws were filmed.
7. Alley's General Store – Vineyard Haven
The oldest retailer on the island since 1858, Alley's General Store is part farmer's market, part hardware store. It's worth a visit to experience the historic charm and grab some goodies to take back with you.
8. Edgartown Lighthouse
If the natural scenery of the island appeals to you most of all, then come and explore this historical landmark, surrounded by gorgeous views. The landscape that has captured the imagination of writers and artists alike, it's all right here. The lighthouse is open from late May until early October. A lighthouse keeper will be your guide as you view the lantern room and see how a real lighthouse operates. Adults are $5, and children under 12 are free.
If you're traveling to Martha's Vineyard, this is the time of year when there will be a Fourth of July barbecue, antique shows and summer film festivals, as well as the awesome natural beauty of the island. If you're planning a visit, contact A-A Island Auto Rental with two convenient locations to help you get around the island with ease. The smartest decision you can make when planning your Martha's Vineyard vacation is your transportation. Let us make your trip extra special, hassle-free and fun!
A-A Island Auto Rental. Contact us today!