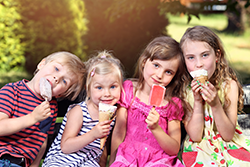 Tips for Your Trip to Martha's Vineyard
These vacation tips will help you get more out of your visit to Martha's Vineyard. Here we've compiled some of the most commonly asked questions of travelers to Martha's Vineyard. If you're planning to visit the island for the first time, or you want to get more out of your next vacation, check out these helpful tips.
Where are the best places to see the sunset?
Martha's Vineyard has some of the most gorgeous scenery in the world. The beaches will give you some breathtaking sunsets, especially Menemsha Beach. Did you know that there is applause, and boats even honk when the sun goes down there? Another place the locals suggest is The Gay Head Lighthouse in Aquinnah, which is an amazing sight at sunset. The Lighthouse offers sunset tours on Friday, Saturday and Sunday evenings from June through mid-September. When you go, try to get there at least an hour and a half before sunset. You'll enjoy incredible views of the ocean and the dramatic cliffs as well.
If you're in Oak Bluffs, visit the East Chop Lighthouse. They also offer sunset tours on Sunday evenings from late June through the middle of September. Arrive 90 minutes before sunset, and you'll experience tremendous views of Vineyard Sound and Vineyard Haven Harbor.
The beaches aren't the only special places to be at sundown. If you like to travel off the beaten path, the Long Point Wildlife Refuge in West Tisbury has what you're looking for. It's a quiet nature preserve with meadows and saltwater ponds, all leading out to the ocean. You can catch a beautiful sunset on the horizon there.
I'm planning to visit Martha's Vineyard in the summer, but I hear it gets crowded. Where are some of the best places to go to avoid the crowds?
Summer is the busiest season on the island. However, the places "up-island" are generally considered less crowded and great for sight-seeing. Up-island refers to less populated towns like Chilmark, Aquinnah or West Tisbury. Down-island towns like Oak Bluffs, Edgartown and Vineyard Haven tend to have more tourists.
Even though it can be a challenge to escape summer crowds, there are some great spots off the beaten path to discover. Bird watchers, come and visit Felix Neck Wildlife Sanctuary. This 350-acre wildlife preserve features 100 different species of birds. If you like to go on nature hikes, this is the place to go! Here you can explore and experience the island's natural beauty on six different trails that will lead you through marshlands, woods, ponds and grasslands.
Are there enough activities for kids on Martha's Vineyard?
Yes. From beaches and boats to ice cream shops galore, there is plenty to delight your little ones. It's recommended that you save the museum tours for adults and older children, because young kids will most likely want to visit the Flying Horses Carousel in Oak Bluffs. It's a real must-see, even for grown-ups, because it's the oldest operating carousel in America. If you grab the "brass ring," you get a free ride!
Keep checking our blog for more insider vacation tips. We want you to have the best vacation ever! And hopefully your trip will begin with us, at A-A Island Auto Rental. We're the premier car rental company on the island. So before you go, contact us!