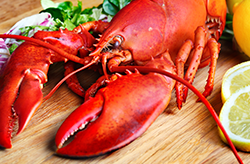 More Tips for Your Trip to Martha's Vineyard
These vacation tips will help you get more out of your visit to Martha's Vineyard. We've compiled some more of the most popular questions of visitors to Martha's Vineyard. If you're planning to visit the island for the first time, or you want to get more out of your next vacation, check out these helpful tips.
Where is the best restaurant to get a lobster? Or New England clam chowder?
Martha's Vineyard offers an array of dining choices with some of the best seafood dishes you'll ever have. It's impossible to choose one. Some locals say that Grace Church in Vineyard Haven has the best lobster rolls. If you're in Edgartown, The Atlantic serves up an amazing lobster macaroni and cheese dish. For an unforgettable bowl of clam chowder, head to the Chowder Company in Oak Bluffs. The Wharf Pub and Restaurant in Edgartown offers a variety of delectable seafood dishes as well. There are many more great places to sample the local seafood, so be sure to visit as many as you can!
Our kids don't like seafood. Is there a good place on the island to get a pizza or more kid-friendly dishes?
Of course! There's more than one pizza place on the island, depending on which town you're visiting. If you're in Edgartown, check out Rockfish. In spite of its name, Rockfish restaurant offers the best wood-fired, flatbread pizzas, also gourmet chicken dishes. So you can find something for everyone.
When you're in Oak Bluffs, try Linda Jean's Restaurant, where parents can enjoy sea scallops and grilled sirloin tips. There's also a kids' menu that features kids' favorites like French fries, corn dogs, even chocolate chip pancakes for breakfast. Also in Oak Bluffs, Lobsterville Bar and Grill gives you an adult seafood menu with choices like lobster and oysters, and a kids' menu with favorites like burgers and grilled cheese.
Where can we go to grab a coffee and have breakfast?
There are many places, depending on where you are on the island. If you're in Oak Bluffs, check out Espresso Love or Behind the Bookstore from some great coffee and baked goods. If you're in Vineyard Haven, be sure to visit Black Dog Bakery for the best slice of chocolate cake, according to the locals.
Is there a tourist attraction that we should see while we're on Martha's Vineyard?
Even if you want to avoid the crowds, some attractions on the island you really shouldn't miss. Among these are the Victorian gingerbread cottages in Oak Bluffs. Originally a Methodist religious camp in 1835, the camp—and the town—became the island's first summer resort, and what remains of the camp are the brightly colored cottages. If you're visiting Oak Bluffs in mid-August, you won't want to miss Illumination Night. That's when the cottages are decorated with glowing Japanese lanterns that turn the entire town into a real-life fairytale. The whole family will want to see it!
Keep checking our blog for more insider vacation tips. We want you to have the best vacation ever! And hopefully your trip will begin with us, at A-A Island Auto Rental. Contact us today!