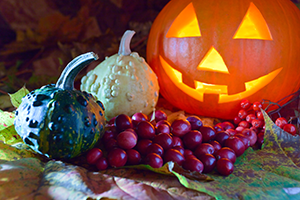 Autumn on Martha's Vineyard
Why the Off-Season has Plenty to Offer. If your idea of a perfect vacation involves peace and quiet, and you're not much for crowds and heavy traffic. . .this blog is for you.
During September and October on Martha's Vineyard, the crowd starts to thin out, the evening breezes get chillier, many attractions stay open AND there are more discounts available than in the summer.
Cranberry, arts and harvest festivals all take place in the fall, but what most visitors come for is the peace and relaxation.
What you'll find in the fall on Martha's Vineyard
September and October are known as "shoulder months," which are not exactly off-season, but during a time when traffic is more manageable and the locals are friendlier, according to some travelers.
Fall foliage begins to burst onto the scene, offering amazing scenery everywhere you go on the island. For those who want a dip in the ocean, you'll still find it warm enough to swim in September during the day. After that, probably not. By October, you'll need a sweater at night.
Must-see attractions
If you're planning a fall visit to Martha's Vineyard, be sure to experience some of the favorite local spots:
Edgartown Books is a quaint bookstore that looks like a country house complete with a porch, where you'll find some of the latest and greatest titles in literature. The pace is slower here, because you can relax while you read, people watch, or have a cup of coffee, considered "the best coffee on the island," at their secluded backyard café, Behind the Bookstore.
Visit Alley's General Store, which has been open since 1858, and offers everything from old-fashioned candy and toys like Slinkys to fishing lures, groceries and souvenirs. On the outside, it looks like the gray-shingle houses of the area, with a rich history as the oldest retailer on the island. It's open year-round, so autumn is a perfect time to stop by!
Often a tourist attraction in the summer, the Gingerbread Houses are really a must-see before you leave. Located in Oak Bluffs, this was the original tourist town on Martha's Vineyard, home to a Methodist revival during the 19th century. These Victorian cottages were constructed in the area and come in nearly every color. Take a walk in what looks like storybook scenery in this historical neighborhood.
Black Dog Tavern in Vineyard Haven (near the ferry dock) is another icon of the island. In the fall, locals recommend the Shipyard Pumpkin Ale. You'll never know until you try it! This is also a place where you might want to pick up some souvenir t-shirts to remember your visit.
Of all the places to see, fall visitors spend more time enjoying the ambience, driving around country roads (with speed limits no more than 40 mph), taking a relaxing ride on the many bike trails with breathtaking ocean scenery and simply enjoying sunsets by the lighthouses.
If you wondered whether or not to come to Martha's Vineyard in autumn, now you know. It's ideal for those who truly want to get away.
Let A-A Island Auto Rental help you get away and discover all of the picturesque backroads of the island. We offer a variety of vehicles to rent during your stay. It's easy and affordable. Talk to us today!