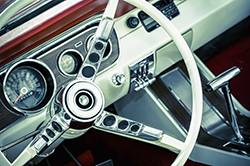 Martha's Vineyard Museum 6 Amazing Attractions for Art & History Lovers: A vacation on Martha's Vineyard can mean many things to different people. For instance, some enjoy a quiet getaway and romantic scenery. Others like to share the fun attractions with their kids, creating lasting family memories. After you've sampled the local flavor and fun, you might be interested to know more about the history of the island.
Martha's Vineyard Museum provides a way to connect the island's history and culture with art that reflects the uniqueness of the area and how it came to be. Open year round, the museum is a wealth of information and art exhibits, as well as special events and historic tours. Located in the heart of Edgartown, the museum showcases paintings, sculptures, photography and many other eclectic works from local artists.
The museum was originally founded in 1922, and began with the acquisition of revolutionary era documents. As time went on, it became the place where you could view an impressive collection of other archival documents, historic books and photos, and many other exciting exhibits.
Permanent Exhibitions
There are a number of exhibits that are showcased year round at the museum. Here is a sampling:
The Thomas Cooke House
Built between 1720 and 1740, this house was owned by one of the earliest attorneys on the island. Though the original furniture could not be preserved because the house was acquired in 1930, there are pieces that are similar to what the Cooke family would have used on the Vineyard. And they offer great insight into what life was like on the island so long ago. There are ten rooms open to the public, upstairs and downstairs.
Replica of a Tryworks
A Tryworks was like a machine that was installed on whaling ships so fishermen could boil down whale blubber into oil. It was then sold for heating and lighting purposes. This practice began at about the middle of the 18th century, and made whaling voyages last a lot longer, since they didn't have to stop at the home port to extract the oil. It also made it possible for whaling ships to travel all over the globe in search of whales.
10,000 Years on Martha's Vineyard
This exhibit chronicles the rich history of the Wampanoag, the island's earliest inhabitants, from the Ice Age to the modern age. It's an archaeological, as well as cultural study, which takes a look at the lives of the earliest Native American group that has called Martha's Vineyard home for thousands of years.
There are a number of other ongoing exhibitions, including Enchanted Isle, which tells the story of how Martha's Vineyard began and evolved into the popular summer resort it is today. There is also a fun interactive exhibit for children and families, called Hands On History, which involves storytelling, songs, and arts and crafts that are all about life on Martha's Vineyard.
Current Exhibits
If you're planning a visit in the near future, you could see Island Faces, a portrait competition that goes through October 24th. For pottery lovers, you'll want to experience Made of Clay: Pottery for Use and Beauty, which lasts through March 2016.
Upcoming Exhibits
Inventive Islanders (February 12 – May 2016) shows you a very surprising, dare we say, artifact? When you think of Martha's Vineyard in the 19th century, you most likely imagine whaling ships, fishermen and farmers. But did you know there were some inventors who were way ahead of their time? An android was patented in 1883 by an Edgartown inventor. Here you can see what was imagined, even a long time ago. And you'll also see that for centuries, Martha's Vineyard has been home to many eccentric artists and creative thinkers.
To experience all of this history and art up close, you'll want to start planning your Martha's Vineyard getaway today. A-A Island Auto Rental will help get you wherever you want to go on the island. Contact us today.