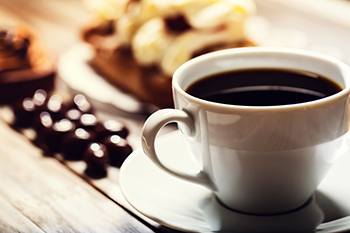 Coffee Shops & Bakeries on Martha's Vineyard
Check out these winter sweet spots! January is a great time to get cozy with a steamy cup of joe on Martha's Vineyard. Whether you're planning a romantic winter getaway or bringing the whole family for an after-holiday vacation, you'll find lots of spots open year-round that keep the gourmet coffee pouring—and satisfy your sweet tooth!
MacPhail's Corner Café in Edgartown
When it's cold outside, this café in Edgartown is the place to be. Choose from a variety of lattes—Caramel Mocha, Vanilla, or how about Toasted Marshmallow? Or if you seek something stronger, grab a double shot of espresso, a cappuccino, or any of their other delicious coffees, from mild to dark roast. If you're more of a tea person, try their gourmet leaf teas. If you're hungry, MacPhail's serves breakfast and lunch, too. For breakfast, they make fresh muffins every day. Or if you prefer, get a bacon, egg and cheese on a toasted, buttered bagel, all bagels baked fresh daily. Lunch ranges from ribs to tomato and mozzarella sandwiches. Or if you want to get that Martha's Vineyard flavor, you can always get a cup of New England clam chowder and a fresh lobster roll.
Espresso Love in Edgartown
This one is dedicated to coffee lovers. Open year-round as well, it's also a place where celebrities are regulars, so you never know whom you may spot. Enjoy a breakfast burrito with egg, onion and pepper. Or spinach, tomato and feta quiche. There's also a market that sells ground or whole bean coffee—Colombian and Kenyan beans are combined to blend the perfect cup. Also pick up a t-shirt to commemorate your stay.
The Black Dog Café & Bakery in Vineyard Haven
A fun place for the whole family, this newly renovated café features a 1914 vintage rail car that sits out front, so you can't miss it. If you're an early riser, the café has pots of clam chowder simmering in case you want to stop by for an early lunch. Of course, Black Dog is known for great food all day long—lobster rolls, turkey club sandwiches and more. While this is a popular place for tourists, locals love to come here, too. For mouth-watering, freshly baked breads, pies and pastries, you can't pass up a visit to this Island landmark. Your sweet tooth will love the wide selection of baked goods. You can also order specialty cakes for birthdays, weddings and other special events. Their executive pastry chef will work with you to customize the cake of your dreams. So if you're celebrating a special occasion while you're on the Island, this is the place to go!
Humphrey's Bakery and Sandwich Shop in Vineyard Haven
For more than 50 years, this bakery has been an institution on the Island. Here you can sample their award-winning baked goods, from gourmet ginger snap cookies to delectable doughnuts. Their freshly baked breads include sourdough, French bread, wheat, oatmeal and more. You can also enjoy lunch of Maple Honey Ham, Chicken Caesar Wrap, Mozzarella and Pesto sandwiches, and many other great combinations. If you prefer to eat lighter, choose from an endless selection of salads—macaroni, pesto, garden, grilled chicken and more.
Your vacation plans should begin with how you'll be getting around each of these great towns. Contact A-A Island Auto Rental to take you to the best places on Martha's Vineyard!