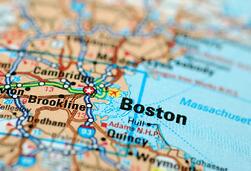 Did you know that it is possible to enjoy hassle free travel from Boston to the Martha's Vineyard ferry and back without having to gas up your personal vehicle? It's true. And perhaps better yet, once you're in the vineyard, you'll be able to travel freely too. Here's how to do it in comfort and style:
If you're coming from Boston, start at the South Station. Known as a hive of Amtrak train and bus activity, it is home to one of the SEASTREAK ferry's travel affiliates. So you can catch a charter bus ride from the station to the New Bedford ferry terminal. Once you're at the New Bedford terminal, you'll be able to hop onto the ferry and sail to the Vineyard Haven terminal.
After the ferry docks, walk to the 5 Corners area and you'll see one of our A-A Island Auto Rental Locations. As long as you are 23 years of age or older, licensed and have a major credit card, we can hook you up with a well-appointed rental vehicle for as long as you plan on being in the area.
It's also worth noting that our A-A Island Auto Rentals are reasonably priced and we offer renters the opportunity to purchase a Collision Damage Waiver. It's designed to help cover a renter's personal car insurance deductible. So you won't have to worry about having adequate insurance coverage either.
Should you want to branch out and see more than just Vineyard Haven, that's possible too. Just make sure that when you do go exploring, the rental vehicle remains on the island. You, however, can feel free to take any one of the other Martha's Vineyard ferries to off-island locations. There are ones available that transport people to nearby destinations like Woods Hole, Hyannis and Quonset Point.
To learn more about traveling between Boston and the Martha's Vineyard Ferry, please contact us at (800) 627-6333. We'd be delighted to help Bostonians arrange ground transportation for their next Martha's Vineyard vacation.