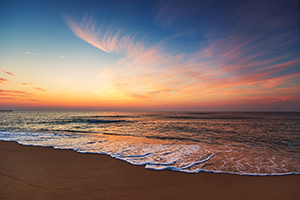 It may not be where children's author, Shel Silverstein's sidewalk ends, but as far as Martha's Vineyard goes, Aquinnah is pretty darn close to the edge of civilization. It's a tiny town whose farthest, western border ends with the famed Aquinnah Cliffs and a goose pimply view of the sea. Experiencing it for yourself is as easy as booking an island car rental from us and hitting State Road or Moshup Trail.
There are several places to spend the night in and around Aquinnah, including The Outermost Inn, Totem Pole Inn and The Duck Inn. The Outermost Inn has its own onsite restaurant that boasts a great prixe fixe menu. The other two lodging establishments have great history and offer easy access to the town's clay laden cliffs.
The cliffs, which stand an imposing 150-feet tall, are home to the Gay Head Lighthouse, Aquinnah Shop Restaurant, Faith's Seafood Shack and four beaches, only two of which are open to the public. They're known as Lobsterville and Moshup. Parking may be hard to come by at times. So you might want to arrive early or reserve one of our electric bicycles too.
The cliffside restaurant that we mentioned above offers patrons al fresco views of the sand and sea as well as three square meals a day. Many of the menu items involve fresh seafood and seasonal ingredients. There is also an assortment of beer and wine available onsite too. The seafood shack, on the other hand, serves lunch and an early dinner. Included in their list of island fare is a fine assortment of fresh sashimi, nigiri sushi and special seafood rolls. Oh, and they have a raw bar onsite as well.
And as for the lighthouse, it has been a fixture since the mid 1800s and stands 46-feet tall, complete with an observation area. Nowadays, it's frequently the site of various special events and a favored spot among visiting and local nature photographers.
To find out more about Aquinnah and what joys it holds for summer visitors, please contact us at our island car rental locations. We open year round and are well familiar with the western portion of Martha's Vineyard.