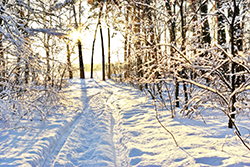 Martha's Vineyard in December: Why Not Stop By and Take a Sleigh Ride?
In December, Martha's Vineyard typically takes on whole new feel. Many of the tourists are gone but the hospitality and great activities don't end. Therefore, it may just be the perfect time for you to make rental car reservations, grab those winter coats and stop by with the family. One series of event that we'd recommend considering are the Cape Poge sleigh rides. They are presently slated to take place the weekend of December 13th, 2014.
There will be two different opportunities to enjoy the sleigh rides each day. One excursion is set to start at 11 a.m. and the other is expected to depart at 1 p.m. It's a family friendly activity and will include a tour of the famed Cape Poge Lighthouse, which has watched over the island since the early 1800s. The 1.5 hour long tours normally include a chance to look at exhibits and climb to the top of the structure's 35-foot tower. At the top of which is a solar power light that still shines nightly to this day.
Advance reservations for the December 2014 events may be made through The Trustees of Reservations. Ticket prices for each trip generally start at $12 per child. Please note that it is also often necessary to make arrangements to take the Chappy Ferry. It is one of a handful of ways to reach the refuge, which is currently surrounded by water. For the most part, the ferry runs throughout December, weather permitting. To participate in the sleigh rides, you'll probably want to take either the 10 or 11 a.m. ferry, which normally departs from Edgartown.
After the sleigh ride, you may want to stick around and partake of the wildlife refuge's 14 miles of trails. Just bear in mind that the majority of those trails are very sandy and prone to wind exposure. So definitely wear good shoes and bundle up. There are places on Martha's Vineyard where you can buy extra hoodie sweatshirts, pull-over sweaters, winter hats, gloves, scarves and boots. They may just come in handy.
To learn more about visiting Martha's Vineyard in December and getting around by rental car, please contact us. We have a slew of fine-looking vehicles that are well maintained and ready to roll year round. Reservations for December trips to Martha's Vineyard may be made now, online or by phone. A major credit card is required and additional insurance coverage is available.