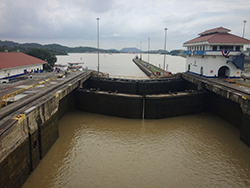 Rent a Car and Explore Martha's Vineyard's Ties to an Intl. Water Landmark
Did you know that Martha's Vineyard has a direct connection to an international water landmark that's located in another country more than 2,300 miles away? One visit to the Martha's Vineyard Museum this winter and you'll know that it's true.
The international water landmark that we're referring to is none other than the Panama Canal and long-time Martha's Vineyard residents, the Goethals, are responsible for the direct connection. The museum has artifacts in its collection that help tell the tale and one of our island's bookstores has information on it too. So you may want to rent a car from us and go to check it all out.
In the meantime, please allow our A-A Island Auto Rental staff to provide a bit of background information. The island's Goethals Family members are direct descendants of a man by the name of George Washington Goethals. A first generation American, he was born in New York during the summer of 1858 and spent many summers on our island. It's interesting to note that his parents immigrated to the Empire State from Stekene, Belgium, some time earlier and had ties to their homeland's carpentry industry.
However, that's not what made Goethals the subject of conversations and museum exhibits on Martha's Vineyard. It was his illustrious career that did the trick. In the 1900s, he met with then U.S. President Theodore Roosevelt and went on to have a heavy hand in the building of the Panama Canal. Actually, he took the reigns over from John Stevens in 1907 and remained in charge of the international water landmark until the winter of 1917. Prior to that, he served in the U.S. Army Corps of Engineers. Once his work in Panama was complete, he went on to do many other things, including work on one of NY's iconic landmarks.
After visiting the museum, consider driving your rental car to the Bunch of Grapes Bookstore in Vineyard Haven and picking up a copy of Chip Bishop's book, The Lion and the Journalist: The Unlikely Friendship of Theodore Roosevelt and Joseph Bucklin Bishop. It includes a fact-based account of the canal's construction and an inside look at the incredible career of the late Massachusetts native, J.B. Bishop. He served as the Secretary of the Isthmian Canal Commission (ICC) in the 1900s and consequently had ample opportunities to witness G.W. Goethals' handiwork firsthand.
To discover more information about Martha's Vineyard's far-reaching connections and find out why so many famous people love to visit us year round, please contact our A-A Island Auto Rental staff. Our fleet of premier rental cars can help you sight-see and enjoy the island, no matter where your passions lie.